Creating Basketball Highlight Footage That Gets Noticed
Basketball Training is not only just about skill building but also about how you showcase your skills and your transformation. As part of the O3P Academy package, highlight footage is created and attached to an athlete's profile on the website for coaches to see. Basketball highlight footage is a great way for coaches to view potential prospects who live in other areas of the country or world without having to travel a long distance to see them. Usually, it is best to play in high profile tournaments but not every coach in the world can be where you are, so highlight footage is a great way to build that interest.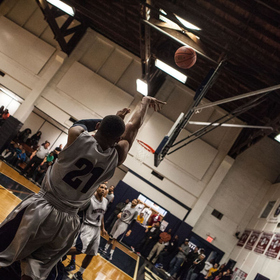 When creating basketball highlight footage there are specific guidelines and criteria that should be followed to be able to gather interest. Here are just a few tips:
DETAILS
Highlight footage should include the name, position, jersey number, and the athletes' specs such as height, weight and class of graduation. This will make it easy for a coach to identify who you are in the footage, and an overall understanding of the type of player you are.
NO PRACTICE FOOTAGE
Highlight footage should not include practice tape of any kind. Coaches have no interest in your practice ability. Some players are amazing in practice, who we refer to as "Practice Players", but how you play in a game is what matters. So refrain from trying to show off those dunks you know you can do, but can't necessarily perform in a game.
SHOW VARIETY
Basketball highlights showing redundant moves will lose the interest of the coach. Coaches want to see that you have diversity in your game. Showcasing the most amount of diverse skills will keep a coach wanting to see more. Sure it's great that you have an excellent floater, but showing that over and over in your highlight tape tells a coach that you are a one dimensional player. Try showing that you have a diverse offensive skill set, a 3 point game, a floater, a layup, excellent ball handling, and more will get you the most attention.
DEFENSE MATTERS
Basketball highlight tape is not only about offensive highlights. Coaches need to see that you are a two-way player, and that you dedicate yourself to the defensive end. Incorporating highlights that consist of steals, blocks, and deflections go a long way in helping a coach decide if you are the right fit for their program going forward.
TREAT YOUR HIGHLIGHT TAPE LIKE AN INTERVIEW
Basketball footage should be no longer than 3 to 4 minutes before you start to lose the interest of the coach. Also, setting your tape to music is fine, so long as the music is an instrumental with no words. You don't want coaches getting the wrong impression of you if you choose to use a song with profanity or other aspects that might not sit well with a professional. Remember, you want to showcase your professionalism.
HIGHLIGHT YOUR POSITIONS MAIN SKILLS
Coaches are looking for certain skill sets at each specific position. For example, a center should be showcasing strong rebound ability, finishing around the rim, altering and blocking shots, the ability to set screens and play in the pick and roll, but it's an added bonus if they can shoot the mid-range or even the three. It doesn't make sense if your basketball highlight footage is mainly showing skills that another position would play. All the skills listed above do not make sense to highlight as the primary skill set for a guard, for example. So make sure that the majority of what you are highlighting is position appropriate so as not to turn a coach away from responding to your highlight footage.
While this is a lot of information to take in, making sure that you cover all of these criteria will help ensure that you get noticed and increase your chances of a coach getting back to you.
If you found this article helpful, please subscribe to stay current on more great tips such as these and more. Also, don't forget to share this article with your friends.